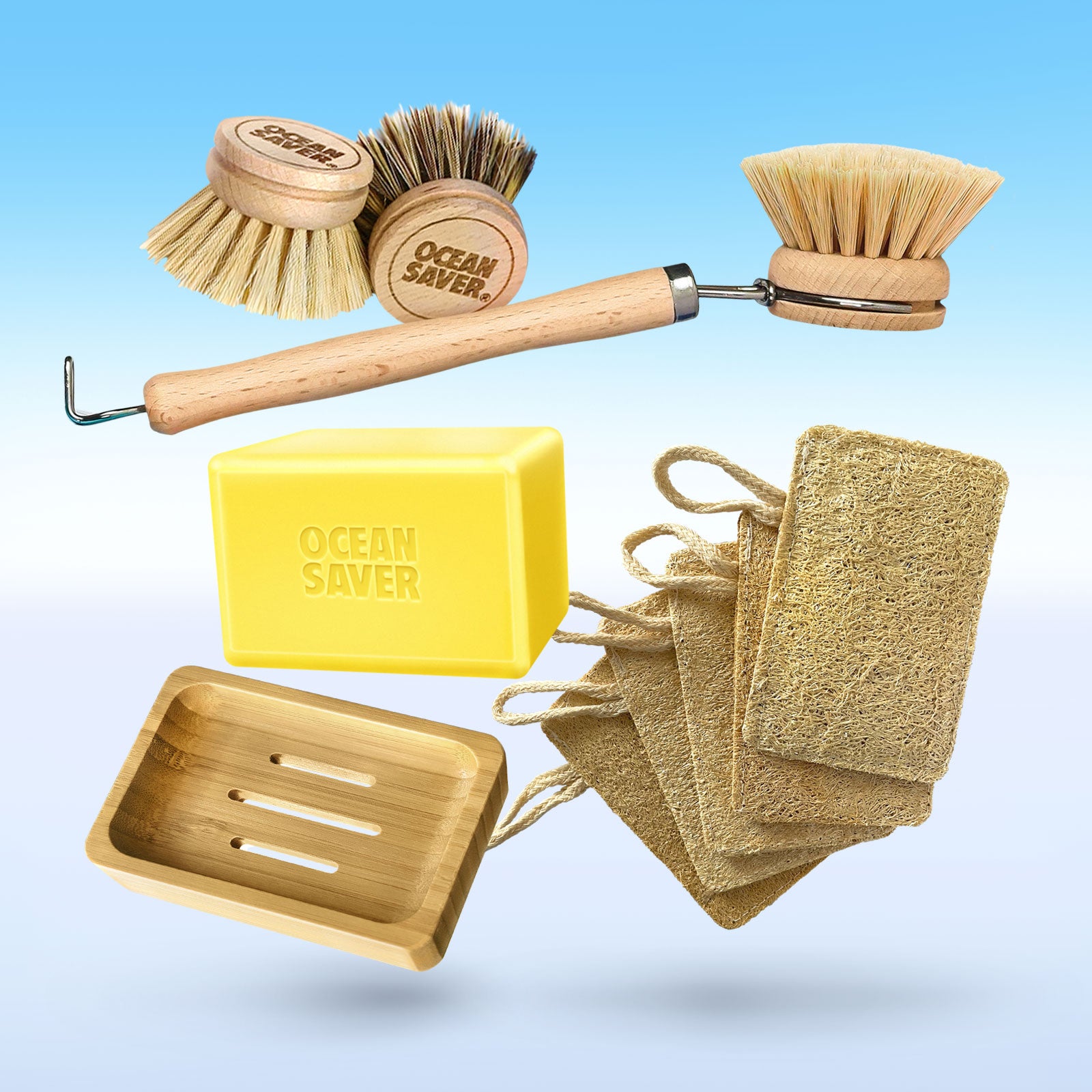 Plastic Free Dish Washing Starter Kit
Regular price
£26.48
Sale price
£21.99
/
Banish single-use plastic from your dishwashing routine with our Plastic-Free Dish Washing Starter Kit. This kit contains plastic-free washing up brushes, loofahs, dish soap and a soap dish.
Description
Go plastic free with our Dish Washing Starter Kit (RRP: £26).
Our bundle includes:
1 x Dish Washing Brush (with 3 heads)
1 x Dish Washing Loofahs (5 Pack)
1 x Dish-Washing Soap Bar
1 x Plastic Free Soap Dish 
Dish Washing Brush
Our 100% plastic free cleaning brush with 3 heads! Our dish-washing brush is 100% plastic-free, biodegradable and made from vegan and plant-based materials, including Beechwood and Sisal.
Dish Washing Loofahs (5 Pack)
Non scratch, ideal for washing up and cleaning surfaces. Our dish-washing loofah is a 100% biodegradable alternative to plastic washing-up sponges. When immersed in water they soften into a flexible washing pad. Soft enough for non-stick pans and supple enough to fit into mugs.
Dish Washing Soap
Our lemon scented dish washing soap bar is made from plant-based and non-toxic ingredients that are tough on grease yet gentle to your hands. Our soap bar is biodegradable, plastic-free and contains no palm oil!
Plastic Free Soap Dish
Our plastic free Bamboo soap dish is made from high quality natural bamboo. With drainage holes and grooves it's the perfect solution to keep your soap dry between uses as well as making it last longer.
How it's used
Dish Washing Brush
Each brush comes with three brush heads, equipped with both soft and tough bristles. Use the lighter, softer bristles to gently clean and use the darker, tougher bristles to tackle more stubborn dishes and pans. When bristles get worn, simply remove the brush head and replace it.

Dish Washing Loofahs (5 Pack)
Use ideally with warm water and our dish washing soap or liquid and use like you would any other washing up sponge. Suitable for all types of pots, pans, cutlery and dishes, but its best to soak and remove any baked-on food first. To keep loofah fresh between uses, squeeze out excess water, shake out any food particles and hang to dry from the cotton string loop. Safe to wash in the washing machine or by hand.

Dish-Washing Soap Bar
This dish soap is a concentrated bar and only a small amount is needed. To work up a lather wet your brush, cloth, sponge and rub the dish soap until its soapy – and rinse your dishes as normal!

Plastic Free Soap Dish
Best to keep the dish dry between uses, but if it ever starts to spoil, Bamboo is 100% biodegradable.


Ingredients & Safety
Dish-Washing Soap Bar
Anionic surfactant >30%, Non-ionic surfactant 5-15% perfume.

In case of eye contact, rinse eyes thoroughly with cold water. If skin irritation occurs, rinse immediately with water and cease use. If eye or skin irritation persists, seek medical advice. Keep out of reach of children.